Victoria Vantoch Bio: Who is Misha Collins Wife?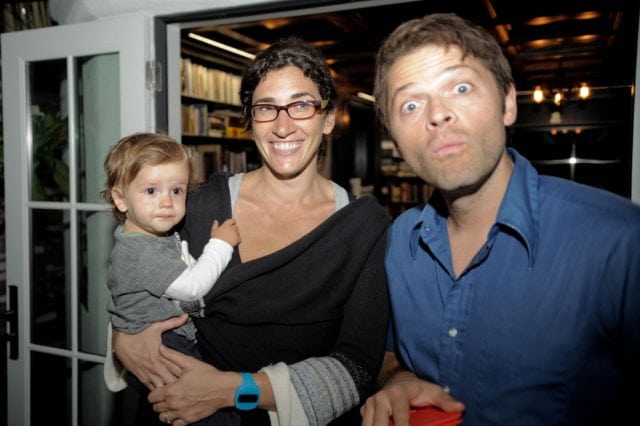 Fans of popular CW Television fantasy series Supernatural would most definitely recognize actor Misha Collins as Angel Castiel in the TV series. Although the same cannot be said of his wife Victoria Vantoch who is not in showbiz, she is definitely not living in the shadow of her husband as she is a prolific writer who is not afraid of tackling sensitive subjects like sexuality, pop culture, and technology. She authored the book titled 'The Threesome Handbook: A Practical Guide to Sleeping with Three' and a second one titled 'The Jet Sex: Airline Stewardess and the Making of an American Icon'.
The great impact Victoria Vantoch has made as a historian has also earned her several commendations and accolades like the Smithsonian Institution Guggenheim fellowship and American Space Agency Grant 2006 – 2007. In addition to the aforementioned, the author has recorded over 45 articles in several US news magazines which have added to her popularity.
Victoria Vantoch's Biography Summary
Full name: Victoria Vantoch
Gender: Female
Date of Birth: January 30th, 1974
Victoria Vantoch's Age: 48
Nationality: American
Zodiac Sign: Aquarius
Sexual Orientation: Bisexual
Marital Status: Married
Victoria Vantoch's Husband: Misha Collins
Victoria Vantoch's Children: West Anaximander Collins, and Maison Marie Collins
Famous for: Being the wife of Misha Collins, Writer, and Journalist
Victoria Vantoch's Instagram
Who is Victoria Vantoch – Misha Collins's Wife?
Victoria Vantoch was born in Riverdale Illinois, United States, back in the '70s and as of now, she is 48 years old. Information regarding her birth family so far is unavailable to the public. However, it is gathered that she had her high school education at Northfield Mount Hermon School in Massachusetts.
She also has a Bachelor's degree in Anthropology from the University of Chicago. Afterward, she proceeded to obtain a doctorate in History from the University of Southern California. The training and qualifications earned from these institutions, coupled with a passion for writing, have contributed to making Vantoch a successfully published writer and sexuality historian.
Away from the entertainment industry and the very imposing public shadow of her husband, Victoria has carved out a niche for herself in the literary world. In 2007, she released "The Threesome Handbook: A practical guide to sleeping with three". The unconventional title brought rave reviews for the book with some critics calling it "a breath of fresh air".
Several years later, in 2013, she published 'The Jet Sex: Airline Stewardesses and the making of an American Icon'. Her books have brought accolades and recommendations for being the first of their kind as regards the expression of human sexuality.
How Victoria Vantoch and Misha Collins' Relationship Started
The loved-up pair share a strong bond which can be traced back to their high school years when Misha was the only boy in their literature class. The attraction was instant and they dated for several years before eventually getting married on 6th October 2001.
The love and commitment they have towards each other is one reason the marriage has lasted for 16 years without any public scandal. In fact, the couple renewed their marriage vows in 2011 at a supermarket, with Misha holding a bouquet of vegetables.
Meet Victoria Vantoch's Husband Misha Collins
Misha Collins, born "Dmitri Misha Tippens Krushnic" is an American actor, author, producer, director, and writer most notable for his role as Angel Castiel on the CW TV show, Supernatural. Interestingly, he was born the same year as his wife although Victoria is 8 months older than her husband due to the fact that she was born in January 1974 while her husband Misha was born in August 1974. The actor's parents are Richard Krushnic and Rebecca Tippens but his stage name Collins is his great-grandmother's maiden name. He attended Greenfield Center School, Northfield Mount Hermon School then proceeded to acquire a degree in Social Theory from the University of Chicago.
His career path includes a 4-month internship at the White House during the Clinton administration in the Office of Presidential Personnel. Misha is also a prolific writer whose writing abilities have led to a lot of published poems such as "Baby Pants" and "Old Bones" – both poems can be found in the 2008 edition of Columbia poetry review issue 21. More so, he and his wife, Victoria Vantoch co-authored a cookbook, 'Adventurous Eaters Club: Mastering the Art of Family Mealtime', released on November 5th, 2019. Proceeds from the book are still being donated to organizations that specialize in food nutrition.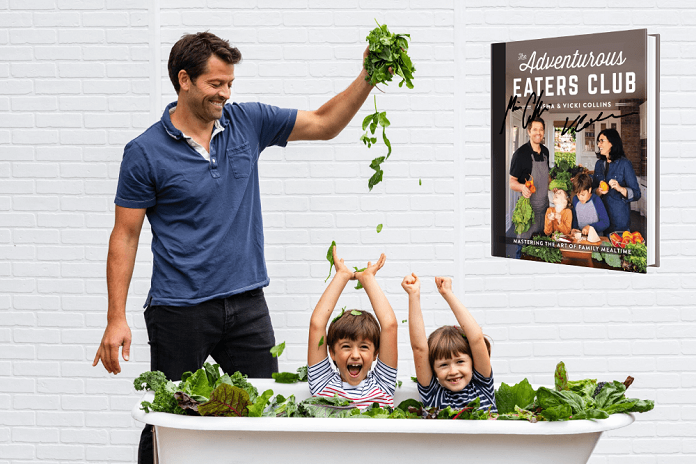 His biggest career success however has come from acting. Apart from Collins Misha's popular role on Supernatural, he has also appeared in other TV shows such as Legacy, NYPD Blue, Charmed, 24, CSI: Crime Scene Investigation, Timeless, Monk, and ER. His feature movies include Girl, Finding Home, and Over Her Dead Body, among several others. Currently, he is the host of Road Food: Discovering America One Dish at a Time.
Collins has received recognition for his stellar performances in movies and TV shows. In 2014, he won the Peoples' Choice Award for Favorite TV Bromance. An award he shared with Jared Padalecki and Jensen Ankles. He was also nominated for Favorite Sci-fi/Fantasy TV actor by Peoples' Choice in 2015 and 2016.
The Blissful Union Has Produced 2 Beautiful Children
Collins Misha and Victoria Vantoch are proud parents to a boy, West Anaximander Collins, and a girl, Maison Marie Collins. West Collins who is currently 12 years old was born September 23rd, and he has been featured in his father's YouTube channel in a series of videos called Cooking Fast and Fresh with West.
Maison Collins who is 2 years younger than her brother has her birth date as September 25th, 2012 and as of now, she is 10 years old. She enjoys dancing, evidenced by her appearance on several posts on her parents' social media handles. She is also often seen playing in her older brother's company. Her many pictures and activities on social media clearly show that she is the more adventurous child.
Although it is unclear whether either of the kids will follow in their parents' footsteps and career path, Misha and Victoria believe that their children are free to make their own decisions when the time is right.
How Victoria Vantoch Caught Charlie Sheen's Attention
Two and a Half Men star Charlie Sheen, who played the role of Charlie Harper on the show, is a name that needs little introduction to fans of the hit American Television sitcom which originally aired on CBS for 12 seasons from September 22, 2003, to February 19, 2015.
After a social media user requested an updated version of Victoria Vantoch's 'The Threesome Handbook', it caught Charlie Sheen's attention and he responded to the request by tweeting:
Done! Wrote it in my sleep! RT @amanduhmarshall @Charliesheen write the update! #tigerblood not in the index! http://yfrog.com/h317196599j

— Charlie Sheen (@charliesheen) March 7, 2011
And this made Misha reply:
RT "@charliesheen: Wrote it in my sleep! #tigerblood not in the index! http://yfrog.com/h317196599j" No u didn't, douche bag, my wife did.

— Misha Collins (@mishacollins) March 8, 2011