30 Easy Hairstyles for Long Hair You Can Do At Home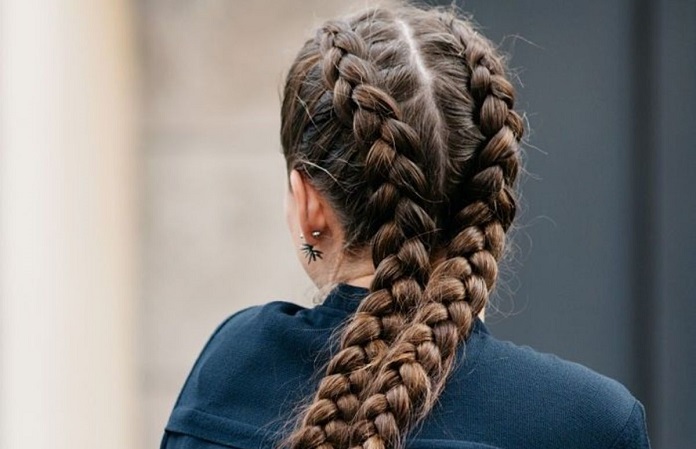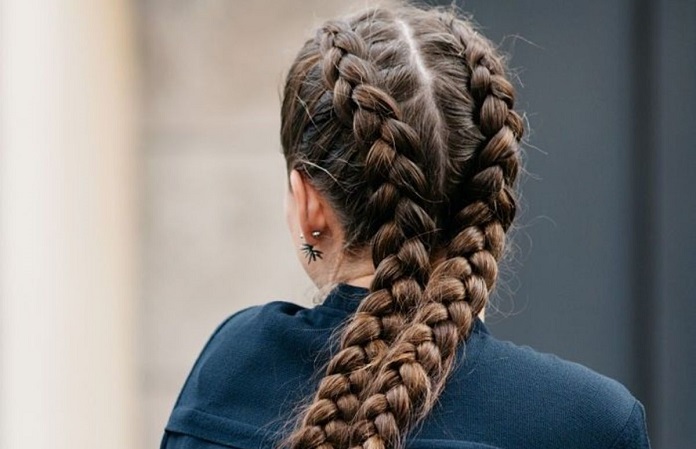 Easy hairstyles featuring streaks, color, and intricate updos can turn an ordinary look into something extraordinary. Unfortunately, many women find it difficult to style their long hair into a unique hairstyle.
Long hairstyles can make a woman look elegant while adding a bit of style and character. Some long hairstyles are easier to maintain than others and have found their way into the limelight of world fashion. Here are some easy hairstyles for long hair which we have put together.
Easy Hairstyles For Long Hair
1. Easy Updos For Long Hair
View this post on Instagram
Updo hairstyle is one of the most versatile hairstyles you can wear. Since ancient times, they have been popular as women often wore their hair in ponytails or braids. Nowadays, they are still fashionable and popular among women. It doesnā€™t matter if you have short or long locks because there are many easy ways to create beautiful looks with any hair length.
2. Easy 1920s Hairstyles For Long Hair
View this post on Instagram
Women in the 1920s were experimenting with different styles and being more creative. One of the most popular looks was the bob cut. These cuts were very flattering on women with round faces and straight hair. They also looked nice on women with curly hair because they added volume. However, if you are going to wear one for everyday activities, you will probably want to keep it simple and unique with something light and airy.
3. Easy Hairstyles For 50-Year-Old Women With Long Hair
View this post on Instagram
There is a common misconception that women over 50 have no business having long hair. However, the truth is that it is easy to pull off stylish hairstyles with long hair as an older woman. There are various hairstyles to choose from, from simple ponytails to elaborate buns and braids. All you have to do is look for one that suits your face shape and accessories.
One of the most popular styles is long curly hair which works well on any face shape and looks great whether you have straight or curly hair. The hairstylist doesnā€™t need much work on this hairstyle. The upper part of the hair is left straight, while the lower part is curly. It can be rocked on any color of your choice to places like churches, offices, or even for casual purposes.
4. Easy Hairstyles For Long Hair For School
View this post on Instagram
A simple and beautiful hairstyle for those with long hair is the ponytail. This hairstyle can fit almost any occasion, whether at school, in the office, or when you are heading out with friends. You can choose to braid it or leave the hair as it is in the picture above. This hairstyle is great with straight or wavy hair and will take a few minutes to complete. It is also very versatile. You can wear your hair down over your shoulders (for an edgy vibe) or pull them back into a ponytail for a more polished look.
5. Easy Hairstyles For Long Thick Hair
View this post on Instagram
This hairstyle is classic for a reason. Itā€™s super easy and looks great on women. If you have a heart-shaped or oval-shaped face, try making your thick long hair relax backward. This will help make your face more extended and balanced. Try adding accessories like decorative rubber bands or flowers in your hair to make your style stand out.
6. 15-strand Braid For Long Hair
View this post on Instagram
Braids are perfect for long hair, as they are versatile and can be worn in various styles. Whether you plan to wear your braids down, up, or half-up, there is a style that will suit your look. You can add curls or waves for an extra touch of elegance as well! This style looks great with bangs too. The unique aspect of this hairstyle is that it works on all face shapes and hair lengths, and they can be dressed up or down.
7. Easy Buns For Long Hair (Easy Messy Bun For Long Hair)
View this post on Instagram
The messy bun is a great hairstyle for those hot summer days when you want to wear your hair in a simple yet attractive style. The best thing about a messy bun is that it can be worn with almost any outfit, from jeans and a t-shirt to elegant evening wear. The messy bun is also an excellent choice for women who have a lot of hair or those who donā€™t want their hair to appear too neat.
This hairstyle looks great on short or medium-length hair. However, it is not recommended for women with long and smooth hair.
8. Easy Wedding Hairstyles For Long Hair
View this post on Instagram
It is one of the popular styles for brides with long hair, probably because itā€™s so easy to pull off. Just keep your hair healthy and shiny before the wedding day; you want it to look like liquid gold. This style will suit brides with heart, oval, or oblong-shaped faces.
9. Easy Braided Hairstyles For Long Hair
View this post on Instagram
This is an excellent hairstyle for women who want to show off their gorgeous makeup or have an easy ā€˜do for the day. These braids are easy to do because they donā€™t require any heat or chemicals to be applied to your hair. You need a comb with teeth thatā€™s small enough not to get caught up in the braid, and youā€™re good to go.
They are also versatile to the extent that they can be worn for almost any occasion. Whether you are going out for dinner with a friend, attending an important business meeting, or just staying at home and relaxing on the couch.
10. Easy Hairstyles For Long Curly Hair
View this post on Instagram
This hairstyle is for any occasion and goes with formal and casual clothing. It is a great way to get your curls off your face in humid weather and keep them away from your food when eating at parties or meetings. Itā€™s also a great way to give yourself a fresh new look if you have been wearing your curls all down. The hairstyle is perfect for a round or oval face shape.
11. Easy Hairstyles For Bone Straight Hair
View this post on Instagram
This is one of the easiest hairstyles you can do on your long straight hair. It requires no heat or products, except for a little bit of hairspray. Just comb your hair out and then smooth it down with the spray. It looks great on any face shape and is quite flattering on most people. The style is perfect for special occasions like weddings and proms where you want to stand out from the crowd.
12. Easy Hairstyles For Long Thin Hair
View this post on Instagram
This hairstyle is easy to do and is perfect for any occasion. It is also great if you have a round or oval face because it would highlight your face in the best possible way. The best way to rock this hairstyle is by allowing it to flow down. A mixture of colors works well and gives a unique look to a round face. The hairstyle is perfect for prom, house parties, and classy events. You can use hair accessories like scrunchies, ribbons, and clips to add personality to the look.
13. Easy Formal Hairstyles For Long Hair
View this post on Instagram
If you want to look fabulous at the next formal event you attend, you should know how to style your hair correctly. This is a very popular hairstyle for a serious corporate appointment. The hairstyle will help you look amazing without much effort. This look is perfect on straight or wavy hair, but it should be pinned straight back from the face. For this look, youā€™ll need a set of claw clips and hairpins in the same color as your hair.
14. Easy Work Hairstyles For Long Hair
View this post on Instagram
The best easy work hairstyle for those with a heart-shaped face is one that has soft curls all through. This style works great if you have a long neck as well. It will be perfect to rock the hairstyle with a color that fits your skin tone.
15. Easy 1940s Hairstyles For Long Hair
View this post on Instagram
If youā€™re blessed with long hair and want to create a 1940s look, thereā€™s no better way to do it than by modeling your hairstyle after the stars of the era. The ā€™40s were a time of victory rolls, pin curls, and poodle cutsā€"all styles that can be replicated with ease today.
Since they work well with many different face shapes, they are also very common. In fact, it is estimated that about one-third of all women in the United States have them. The best accessories to use with this type of hairstyle include hats and scarves.
16. Easy Casual Updo For Long Hair
View this post on Instagram
If you want to try a cute and easy hairstyle, the casual updo is a great option. You can use either style it yourself or have a friend help you. It only takes 5 minutes and can be done with any hair. This style is perfect for all face shapes, but itā€™s incredibly flattering on oval faces because thereā€™s no need to worry about symmetry issues. The best accessory to rock this style with is a headband or bobby pins.
17. Easy Half Up Hairstyles For Long Hair
View this post on Instagram
Half up, half down hairstyle is one of the best styles to wear for a night out. If you have long hair and need a new look that is sure to turn heads, try out these gorgeous easy half-up hairstyle ideas. This hairstyle is popular and can be worn with any face shape or hair color. They are also trendy among women because they allow you to have the convenience of an updo while still looking stylish.
You can also create a fantastic full-bodied look by using extensions or a headband to add length and volume to your hair.
18. Easy 1950s Hairstyles For Long Hair
View this post on Instagram
The 1950s hairstyle for long hair comes in different styles, but it is necessary to check the perfect style to match your face shape. The hairstyle demands the use of many headpins to hold up the style. It can be rocked on any formal or informal occasion and can appear in different colors. Wear the side hat or barret to showcase that perfect 1950s look after styling the hair.
19. Easy 1920s Hairstyles For Long Hair
View this post on Instagram
The 1920s is known for its short and boyish hairstyles, but many women in the 1920s wore their hair long. Some of the best looks from this iconic decade are actually long, gorgeous curls. Rocking waves is one of the easiest ways to give off a ā€˜roaring ā€˜20sā€™ vibe without overdoing it. With just a few curlers and bobby pins, you can give your hair a complete, bouncy look that accentuates your face.
The pink color gives the hairstyle a unique look that makes a woman stand out from the crowd. The hairstyle is perfect for any red carpet event requiring a fashion recall.
20. Easy Prom Hairstyles For Long Hair
View this post on Instagram
This is among the most versatile prom hairstyles for long hair because it is formal and elegant but still has a casual vibe. This style works well on any face shape and can be dressed up or down, depending on your outfit choice. This is also an easy hairstyle to do by yourself. It can be styled up with accessories like pearls or kept simple with just a few bobby pins holding everything together.
21. Easy Professional Hairstyles For Long Hair
View this post on Instagram
Long hair has always been the best hairstyle among women. It is easier to style, and you can use it effectively to hide any flaws in your face. However, long hair can be quite challenging to maintain when working in an office setting or having a very busy lifestyle. This is why having some easy professional hairstyles for long hair is essential if you want to look good while at work and save time.
To have the best of the hair, keep the hair straight and allow some part flow out to your shoulders while the back is a bit braided and allowed to flow down. The hairstyle will be perfect with your natural hair color, as it projects your professional personality.
22. Easy Gym Hairstyle For Long Hair
View this post on Instagram
This hairstyle makes you look put together and confident, which is really important if you stick to regular exercise. The hairstyle is easily achieved by gathering the hair to the back with a rubber band. The hairstyle is not restricted only to the gym but can be rocked on other casual activities. It is perfect for a woman with a round or an oval face shape.
23. Flower Braid Hairstyles for Long Hair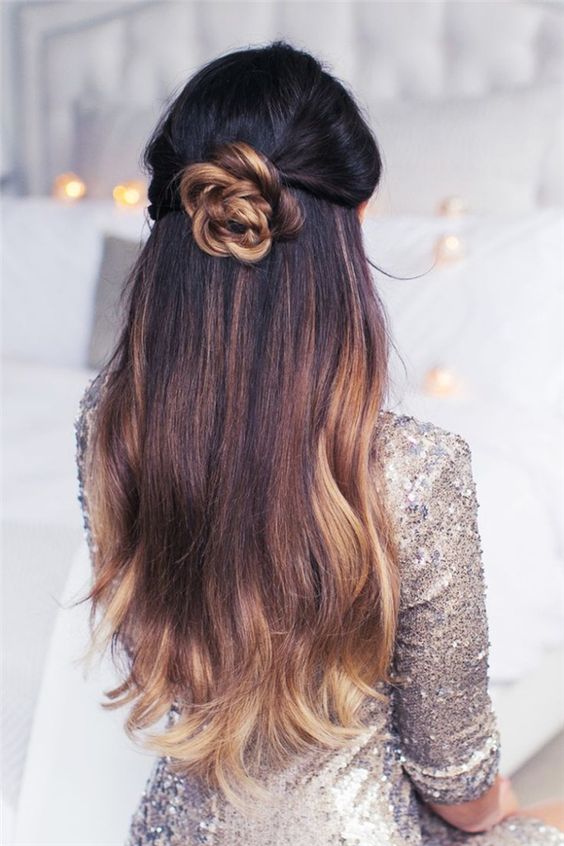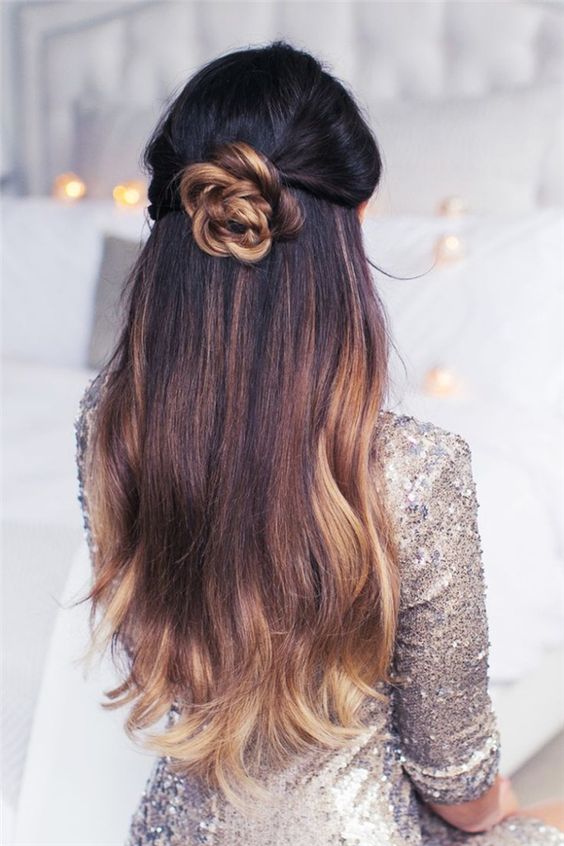 The flower braid is a simple hairstyle that adds beauty to long hair. To create a flower braid, divide your long hair into two equal sections from the temple line to the back of your head and make loose ponytails from both sections. Next, braid both sections of your hair to the end, making sure they are loose so they are voluminous and look like flower petals. Finally, twist the braids together to make a bun, secure with bobby pins, and you have an easy yet elegant hairstyle.
These kinds of braids will make your hair look longer and more elegant, as well as give it a more natural bounce. It will be perfect for women with round faces, though other face shapes will not be bad on the hairstyle. The best accessories to rock these flower braid hairstyles include a bandana, earrings, and necklaces with little flowers on them.
24. Double-knotted Pony Hairstyle For Long Hair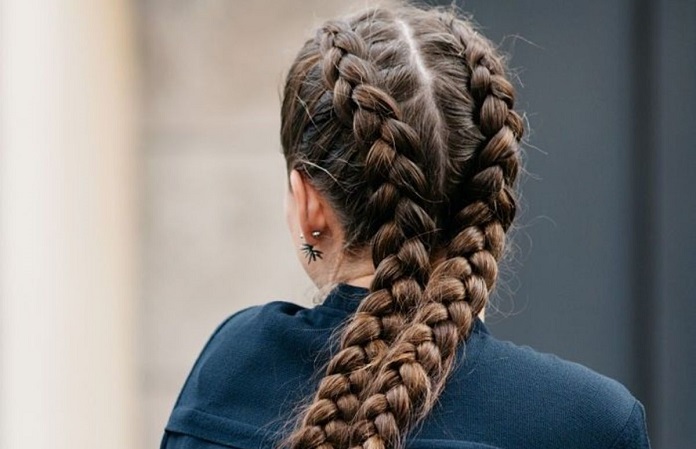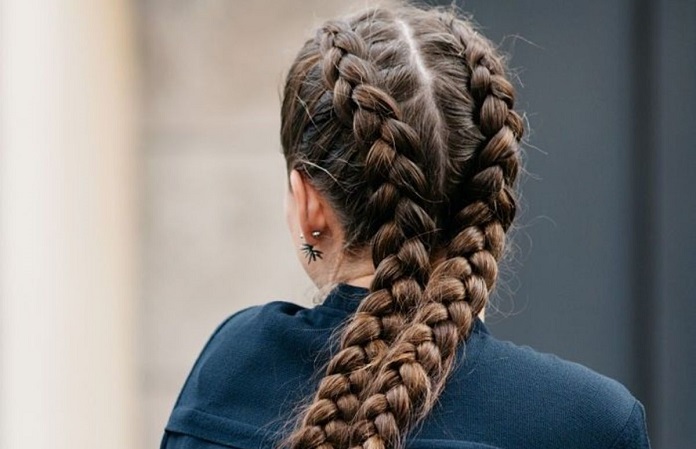 This style is recommended for people with long hair. To create it, divide the hair into two equal sections and tie them in a knot at the base of the neck. Then make another small knot with the two sections and place a ponytail holder under that knot.
This double-knotted pony is perfect for any face shape and can be worn casually or dressed up for a special occasion. If your long hair is curly or wavy, then this look may not be for you since it will take some time to create. But if you do have straight or fine hair, then this style is perfect for you.
25. Unpolished Bun Hairstyle
The unpolished bun is an easy hairstyle for long straight hair. All you need to do is gather your hair on the crown of your head and secure it with a pin. Then, if you want to show off your face and neck, take some textured hair and create a smooth, shaped ballerina bun. This hairstyle is meant to look like you just threw it up into a messy bun, so donā€™t worry if itā€™s not picture-perfect before you leave the house.
You can use bobby pins to hold stray hairs in place or even add some volume at the top with teasing before securing everything together. Then just let those gorgeous tresses fall where they will. It is great for any face shape and will work with almost any type of hair texture. Accessories like pins are important in styling.
26. Easy Hairstyle for Long Hair With Side-Swept Bangs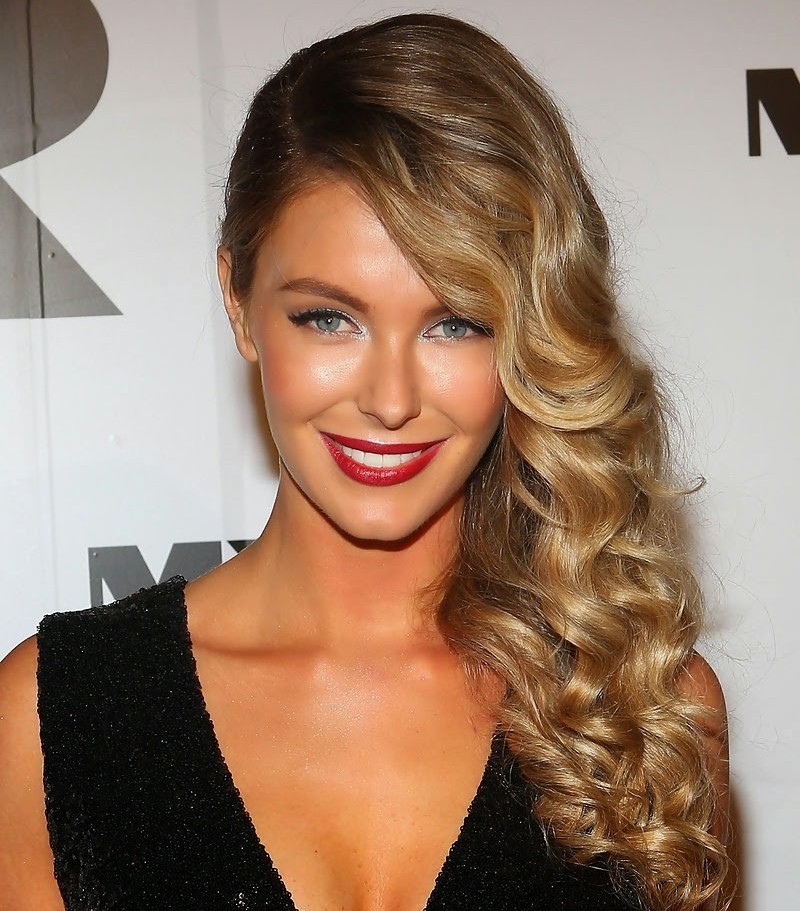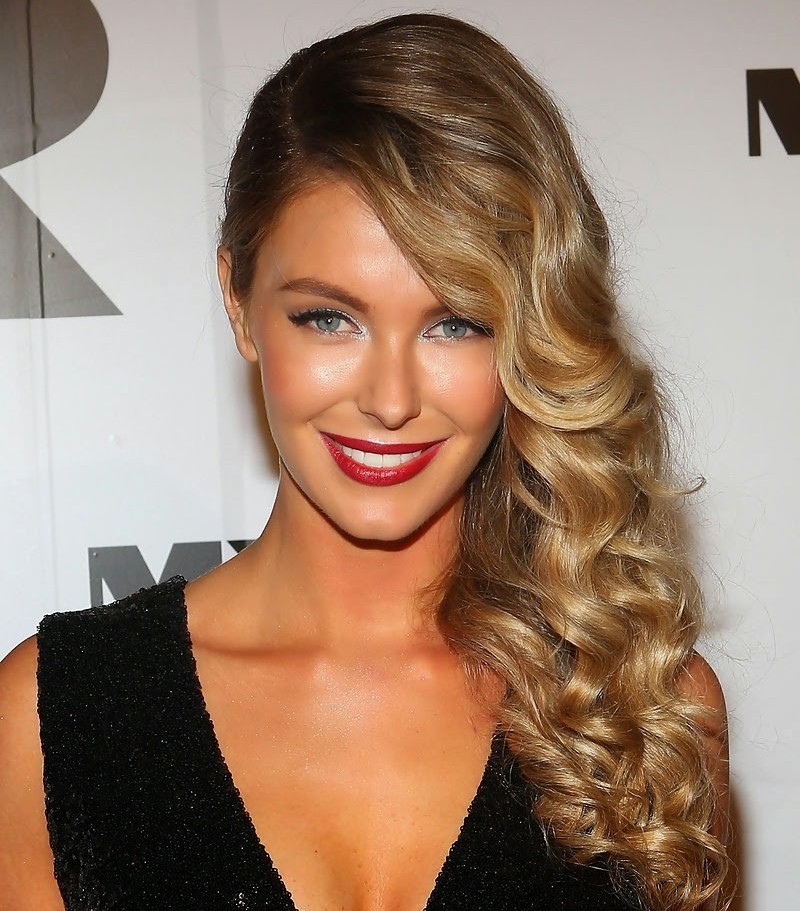 Side-swept bangs are an easy hairstyle for long hair, and they can fit any kind of face. Commonly seen with a ponytail or bun, the look can also be worn with the hair down without accessories. This type of bang is a little more subtle and less extreme than some of the other popular styles out there. They are a great way to show off your eyes without going overboard, so theyā€™re perfect for both work and play.
27. Tousled, Twisted Waves For Long Hair
Long hair can be styled in many ways, one of the most versatile and popular being beachy, tousled waves. These waves look great with almost all face shapes and skin tones. They are also really easy to make and can be styled in minutes. First, take some sections of damp hair and twist it before blow-drying it. Once the entire hair is dried in twists, get it separated so that you get beachy, messy waves.
This type of hairstyle will look best when you wear accessories such as earrings and necklaces that complement your style and other clothing items that match up with your outfit and occasion.
28. Twisted Halo Super Easy Hairstyle for Long Hair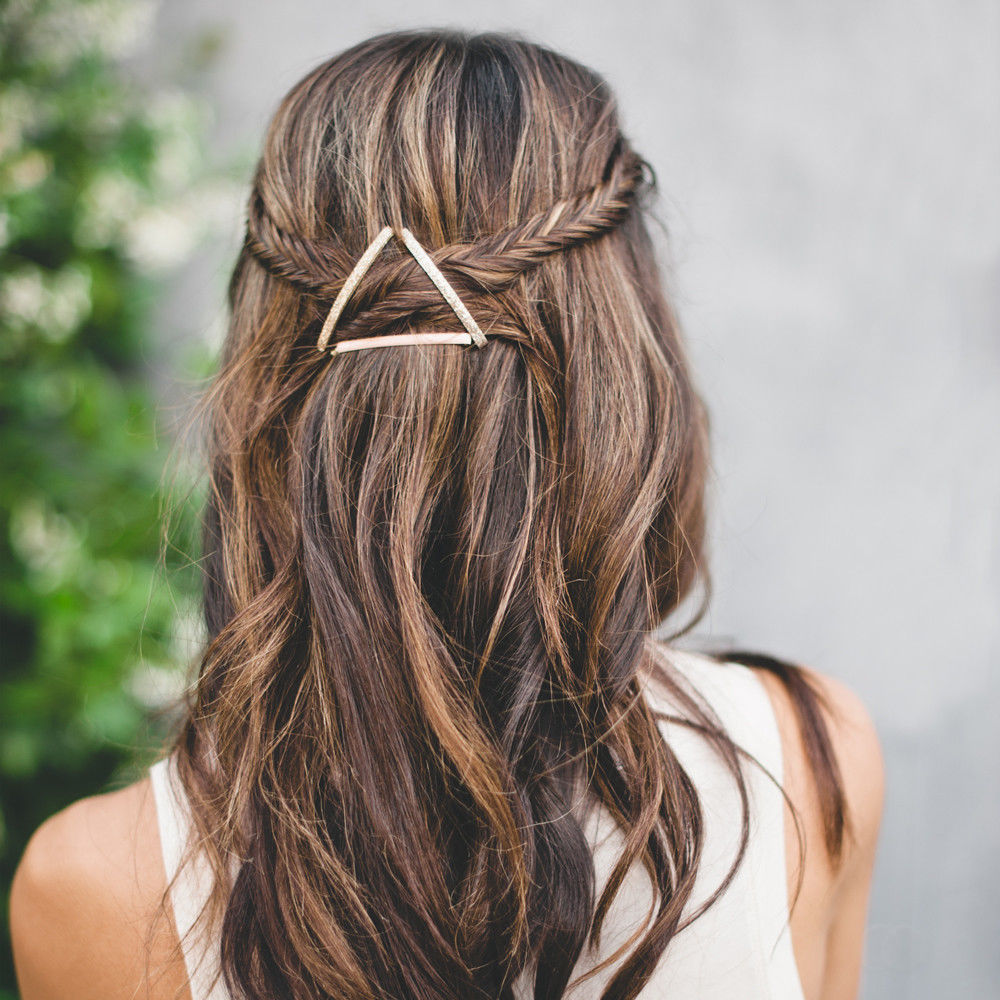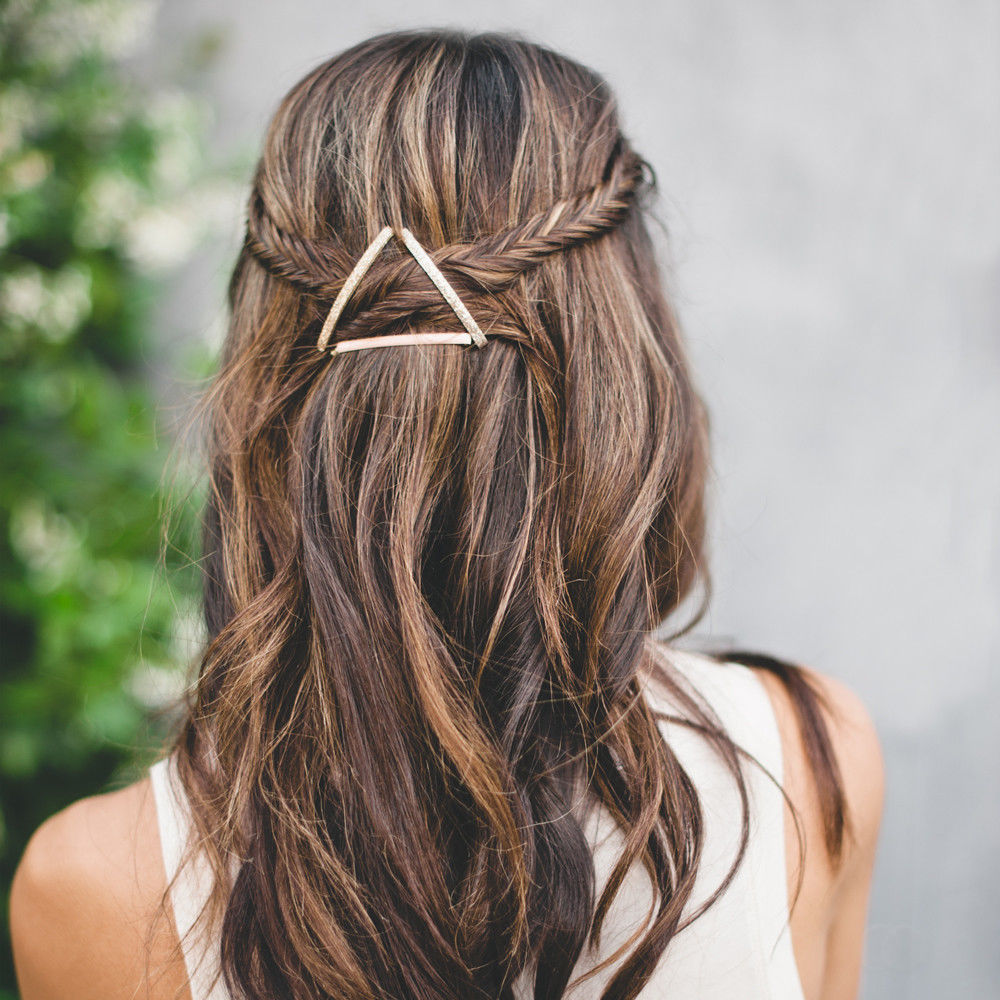 Twisting loose hair back into itself produces a halo-like effect. This hairstyle, called the Twisted Halo, can be achieved by gathering some hair from either side of the head and twisting it back against itself. Secure this twist with a pin at the middle back of the head, and then repeat the process, joining both twists in the same place with another pin. The long loose ends should drape down over your face and shoulders.
The best part is that this hairstyle works well with any outfit, so donā€™t worry about matching colors or patterns too much. Just go for whatever feels right at that moment.
29. Easy Side-Braided Pony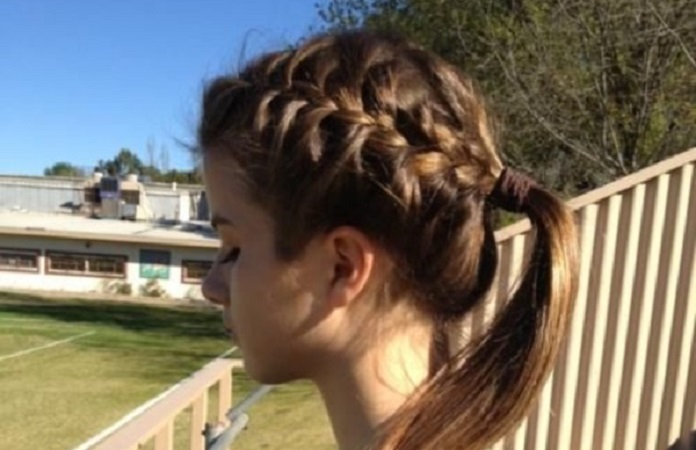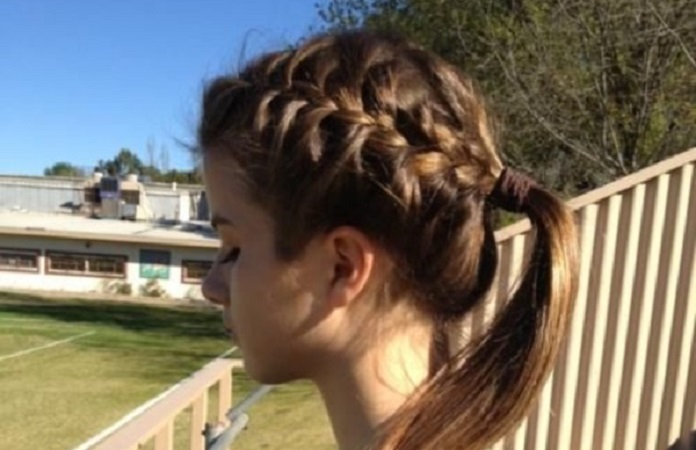 The French side braid is a popular style because it gives the illusion of making a face look longer, and it is perfect for those with medium to thick hair. To achieve the French side braid, make a regular braid on one side of the head and gather it with the rest of the hair. Then, tie it together into a ponytail and hold it with a hair ruffle. Another method is to use a section of hair to tie up the braid.
If you have wavy or curly hair, this style will look particularly great on you. But if your hair is naturally straight, donā€™t worry; itā€™ll look just as good.
30. Classy Ponytail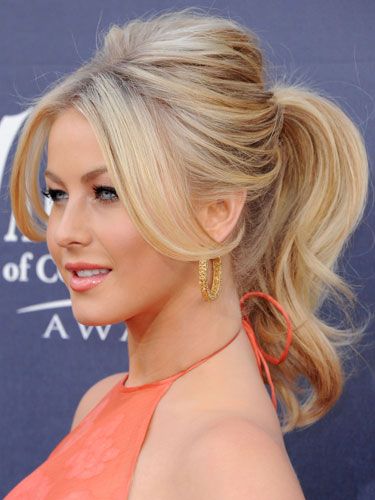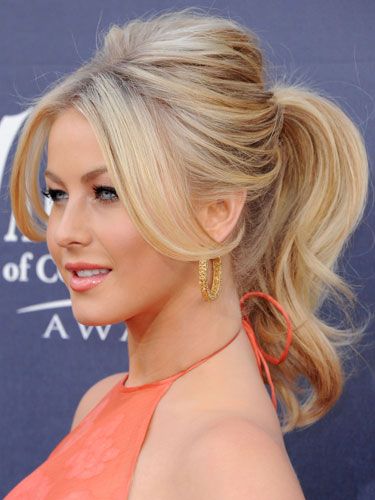 A classy pony looks great on long hair. Itā€™s perfect for busy days when you need to look put together but donā€™t have the time or energy to do much with your hair. First, divide your hair into two sections at the front. Bring one of these sections forward and allocate more of it to the back than the front. Next, separate another part in the front into two halves with a loose part at the middle and drape it from the top down to the sides. Finally, make a ponytail with the remaining hair from behind.
The hairstyle is seen mostly among female athletes, as it allows the wearer all necessary freedom. It is perfect for most face shapes but can be recommended for women with oval face shapes.