Maria Victoria Henao Biography: Who is Pablo Escobar's Wife Tata Escobar?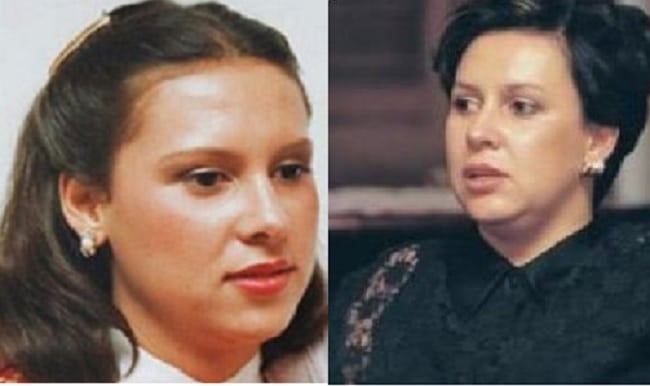 Maria Victoria Henao is the wife of Pablo Escobar, a well-known drug dealer from Colombia. Pablo was a drug kingpin dubbed the "worst criminal in the world." He certainly has a claim to being the world's largest narcotics trafficker. Pablo's wife, fondly called Tata Escobar, was married to him for 17 years until the narco-terrorist was killed by cops in 1993. Following the loss of her husband, Maria and her children lived as refugees – authorities had accused her of being a member of a drug cartel, but this was ultimately proven to be untrue.
Summary of Maria Victoria Henao's Bio
Full Name: Victoria Eugenia Henao
Nickname: Tata Escobar
Gender: Female
Date of Birth: Born 1961
Nationality: Columbian
Sexual Orientation: Straight
Religion: Catholic
Marital Status: Widow
Maria Victoria's Husband: Pablo Escobar (Deceased)
Maria Victoria's Children: Manuela Escobar and Sebastián Marroquín
Siblings: Pastora Henao Bayen and Carlos Mario Henao Vallejo
Maria Victoria's Net Worth: $554,000
Famous for: Being the wife of Pablo Escobar
Maria Victoria Henao Came From A Humble Colombian Background
Little is known about Maria Victoria's early years due to her very reserved nature. What is known is that she was born in 1961 in Palmira Valle Del Cauca, Colombia, to Carlos Henao Vallejo and his wife Leonor Zuleta. She is claimed to have enjoyed dancing as a child with her brother, Carlos Mario Henao Vallejo, and sister Pastora Henao Bayen (something she still does in her spare time today).
Maria meet Pablo Escobar through her brother, Carlos Henao, who worked with Pablo while the drug lord was still establishing his drug trafficking network. Carlos was a key figure in Pablo's small-scale criminal operation. Sadly, he was kidnapped and murdered outside Medellin, 6 months before Pablo's death.
More so, Maria's parents were against her relationship with Pablo Escobar from the start. They always had resentment and suspicion for Escobar, a watchman's son who sped past their neighborhood on his Vespa.
Maria's Marriage To Pablo In 1976 Was Plagued By Many Infidelities and Criminal Activities
Despite the vast age difference between the couple, Henao was positive she had found love with Pablo. In her memoir, 'Mrs. Escobar: My Life with Pablo' she would confirm the fact that Pablo had been her one and only love. Henao claims that her future husband put in a lot of effort to seduce her. He lavished her with gifts, such as a yellow bicycle, and serenaded her with beautiful music. The pair eventually got hitched in 1976 notwithstanding Maria's parent's disapproval.
After their marriage, there were speculations that Maria was involved in the drug lord's activities as a criminal mastermind but this is not true. Henao claims that for the first several years of their marriage, her husband didn't tell her what he worked for a living. She immediately realized, however, that he might be involved in some shady business.
Henao tried to overlook the problem at first, focusing on her husband's sudden wealth but, her husband's involvement in a brutal criminal world disturbed her in private and his extra-marital affairs tortured her. However, despite Pablo's multiple mistresses, including his well-publicized infatuation with Virginia Vallejo, a writer, which Maria was well aware of, the 2 remained married for 17 years until Pablo's death.
Their lives were upheaved by the drug wars, hiding, and several scandals. She had bid her husband farewell at a hideout called the blue house a couple of months before he was gunned down by Colombian forces. Some sources believe that Escobar ended his life before he was captured by the Columbian forces.
The Controversial Life Of Maria Victoria Henao's Husband, Pablo Escobar
Pablo Escobar, full name Pablo Emilio Escobar Gaviria, was a Colombian criminal who, as the head of the Medellin cartel, was perhaps the world's most powerful drug trafficker in the world in the 1980s and early 1990s. He was 44 years old when he died as he was born on December 1, 1949, in Rionegro, Colombia, and died on December 2, 1993, in Medellin.
In the mid-1970s, Pablo assisted in the formation of the Medellin cartel, a crime syndicate. Juan David, Jorge Luis, and Fabio Ochoa were among his prominent collaborators. Escobar led the operation, which was primarily focused on the manufacturing, transportation, and sale of cocaine. By the mid-1980s, the Medellin cartel had taken control of the cocaine trade, with Escobar wielding great power and wealth.
According to some estimates, he was valued at almost $25 billion, allowing him to live a luxury lifestyle that included owning a 7,000-acre (2,800-hectare) estate in Colombia called Hacienda NĂĄpoles (named after Naples, Italy) that housed several other high priced possessions like a soccer field, magnificent dinosaur statues, artificial lakes, a bullfighting arena, an airport, a tennis court, and a zoo which had giraffes, hippopotamuses, and camels, among other creatures.
Maria Victoria Henao's Kids and Life After Pablo Escobar's Death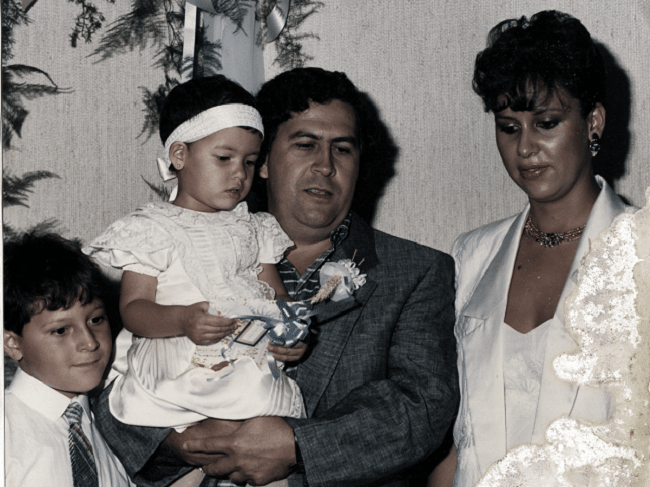 Maria Victoria Henao and her Family ()
After 17 years of marriage, Maria and Pablo produced two children, Juan Sebastian Marroquin born in 1977, and Juana Manuela Santos born in 1984. Like their mother, the pair lived a very comfortable life when Pablo Escobar was alive but his demise brought a drastic change to their lives. However, Sebastian has been more active in the press than his sister, who has stayed out of the spotlight. He studied architecture at the University of Palermo in Buenos Aires after moving to Argentina. In 2017, he told The Architect's Newspaper that he chose architecture since his mother's grandfather was a carpenter and his grandfather was an interior designer.
With regards to Maria, she is currently a published novelist, writer, and businesswoman. She has generally avoided the spotlight and kept the specifics of her life private until her autobiography was published in 2019. Writing in her book, Victoria said that she thought it was her duty towards her children that they learned her side of the story. She said she also wants her six-year-old grandson to know what really happened through her. The former Mrs. Escobar also played a role in the 2019 Spanish-language documentary Tata: Escobar's Widow.
What Is Maria Victoria Henao's Net Worth?
Maria Victoria Henao is claimed to have a net worth of $554,000 as of 2021. Following Pablo's death, his wife and children were unable to benefit from his fortune because they were primarily on the run and had most of their liquid assets seized. However many people believe Pablo has hidden money for his family in an undisclosed location.