Who are Michael Rainey Jr Parents?
Michael Rainey Jr.'s parents are Shauna Small and Michael Rainey Sr. The 22-year-old American actor, who is best known for his role as Tariq St. Patrick on the TV series Power, was born to his parents on September 22, 2000, in Louisville, Kentucky.
Shauna and Michael Sr. did not have a footing in the film business to help their son achieve their dreams. They, however, supported him from when he was ten years old. Today, Michael Rainey Jr. is one of the more recognizable faces of all the young actors in Hollywood, making his parents very proud with the few high-profile roles he has executed so far.
Who are Michael Rainey Jr Parents?
Michael Rainey Jr.'s parents have been identified as Shauna Small and Michael Rainey Sr. Details of when or if the couple officially got married are not available to the public, and it is unclear if they are still together.
Regardless of the state of their union, we know that Shauna did not take her husband's last name and Michael Jr. appears to be their only child as there are no reports of him having any siblings.
Rainey's Father is a Native of New York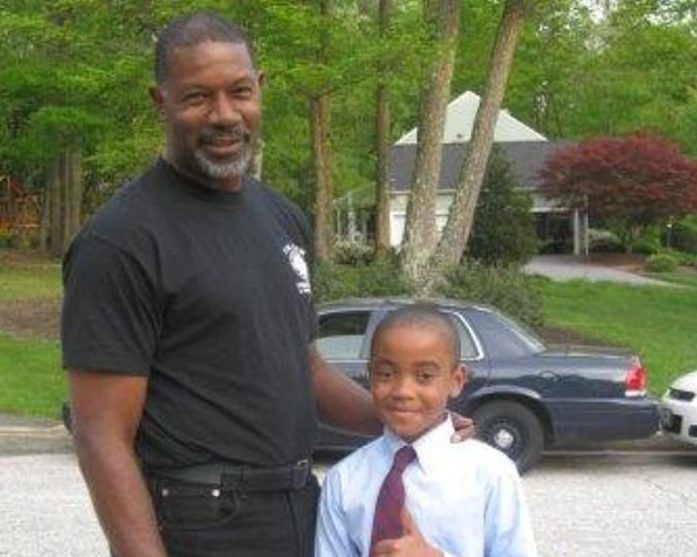 Michael Rainey Jr.'s father is originally from New York. Not much is known about him, including his age and what he does for a living, as he appears to live a private life away from the public. His famous son rarely talks about him, raising suspicions that the two might have a strained relationship.
Rainey Jr. sort of confirmed the strained relationship between the pair when he was speaking about his role as Tariq in an interview with Vibe. He compared the relationship between the character he plays and his onscreen father (James St. Patrick, aka Ghost) to that of him and his actual dad.
For context, Tariq resented his father for abandoning his family to live with another woman. He would later become disrespectful towards him and would start working with his sworn enemies. In the end, Tariq kills his father. Things, however, do not appear to be that bad between Michael Jr. and Sr., but he says he can relate to Tariq's actions and behavior because it is something real in his life.
His Mother is a Health Coach and Beauty Business Owner From Jamaica
View this post on Instagram
Michael Rainey Jr's mother, Shauna Small, was born in Jamaica but immigrated to the United States as a teenager. Details of when she was born and who her family are is not known. However, it is known that she schooled in the US, attending the College of Staten Island, where she acquired a Bachelor of Arts in Psychology/English.
In 2015, Shauna returned to school, enrolling at Concordia University-Portland, where she completed the requirements to be awarded a Master's Degree in Curriculum and Instruction. Michael's mom has since gone on to make a living as a health coach.
She established Our Learning House, Inc. in 2004, a company that provides childcare workers with online and in-person training. Shauna Smalls also owns an organic skincare brand known as Relax Be Healthy and serves as the business manager of her son through Higher Level Talents, Inc. Because Shauna has family that still lives in the island country, she and her son have visited the place.
Thanks to the fame he has achieved in his career, he was made a Youth Ambassador of Jamaica by the country's Minister of Tourism, Edmund Bartlett. The actor promised to use his platform to promote the country and encourage the youth to believe in their dreams and work towards them. He also got to meet the country's president.
View this post on Instagram
Michael Rainey Jr is an African-American of Jamaican Descent
Micheal Rainey Jr was born in the US State of Kentucky, making his nationality American. He is African American by ethnicity but of Jamaican descent due to his mother's origins.
The actor spent the first year of his life in his birth city of Louisville before moving to New York. He was mainly raised in the Brooklyn borough of the city. By the time he turned 10 years old, Michael, began making strides toward becoming an actor. It is not clear what education he received to enable him to launch his career, but he was able to land a few notable roles at that age.
Michael Rainey Jr.'s first appearance was in the movie Un Altro Mondo. He also appeared in films like Waiting Room and Sunny & Share Love You. However, the role that put him on the map was that of Michael Burset in Orange Is the New Black, where he had a recurring role. Other notable roles Michael had before playing Tariq in Power (2014-2020) and its sequel/spin-off Book II (2020-present) include LUV (2012), The Butler (2013), Barbershop: The Next Cut (2016), etc.