The Best Sephora Brush Sets for Facial Makeup, Foundation & Hair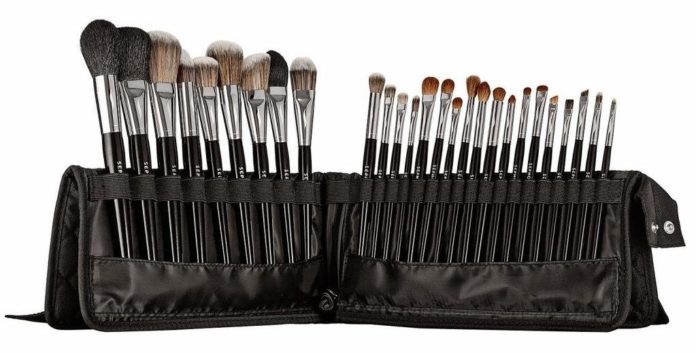 Sephora brushes are without a doubt one of the best on the market. They are an eye-catching mix of amazing designs complemented by a high-quality craftsmanship that is hard to miss. Whether made out of synthetic or natural bristles, you will find all types of brushes on a Sephora set including the highlight fan brush, the angled brush, the concealer brush, and the powder brush just to mention a few. The best Sephora brushes not only complete your makeup toolkit but also provide an easier way to travel light considering they can be packed compactly with ease.
The best Sephora brushes
1. SEPHORA COLLECTION Tools Of The Trade Brush Set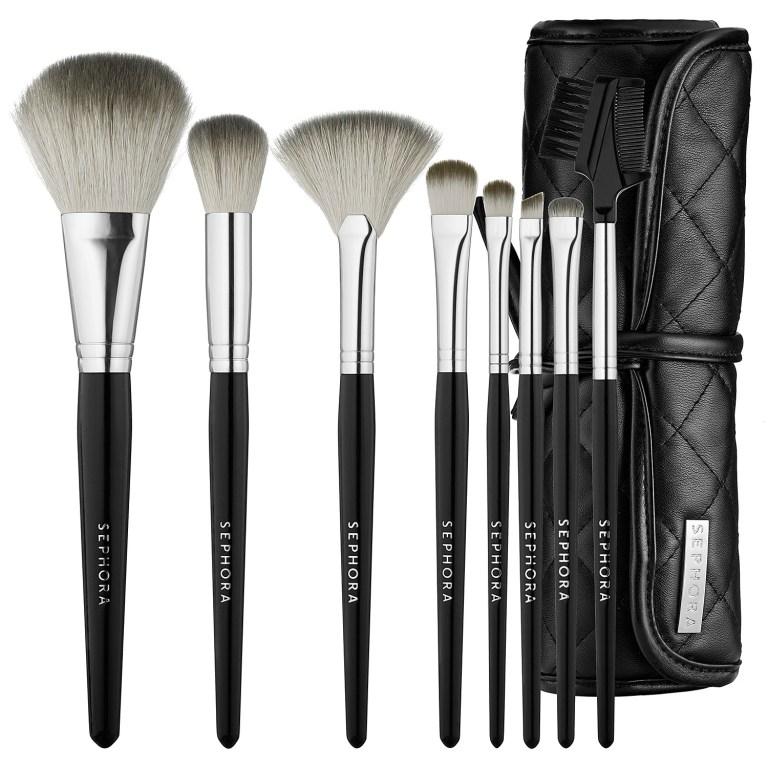 The Sephora Tools of the Trade Brush set has eight high-quality brushes for your complexion, eyes, and cheeks. These include the powder brush, smudge brush, a brow comb/brush, and a precision shadow brush just to mention a few. Their small but manageable size makes them easily packable and a nice traveling brush set.
Also, this brush set is affordable and comes with a return option if it is not satisfactory. Nonetheless, with the ability to apply any formula, color, or give a whole new look, it is hard to see any reason why this product would be nothing less than the perfect brush set. Each brush has the Sephora imprinted on it as the custom pouch that conveniently stores all eight brushes. For best results, it is recommended that you cleanse these brushes with the daily brush cleaner and use the solid brush cleaner for solid cleaning.
Recommended: Best 3 Vera Wang Perfumes You Should Be Using
2. SEPHORA COLLECTION Two Ways About It Brush Set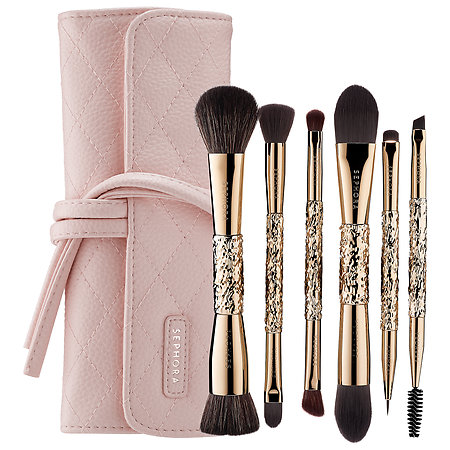 The best thing about the two ways about it brush set is it gives you two ways to go about applying your makeup. With a golden design and a firm handle in the middle, each brush on this set has bristles on either end hence the name, two ways about it. The handles are made out of champagne gold molten metal giving this six-piece face, and eye brush set an elegant look.
Also, this brush set from Sephora comes with custom storage; a specially designed vegan leather brush with a classy design. The quilted roll clutch is pink in color and is not big for convenience sake. They might be six brushes, but each brush comes with another; the smudge brush comes with the precision liner, the foundation brush is flat on one end and pointed at the other, and buffing blush comes with the blush brush.
3. SEPHORA COLLECTION Deluxe Antibacterial Brush Set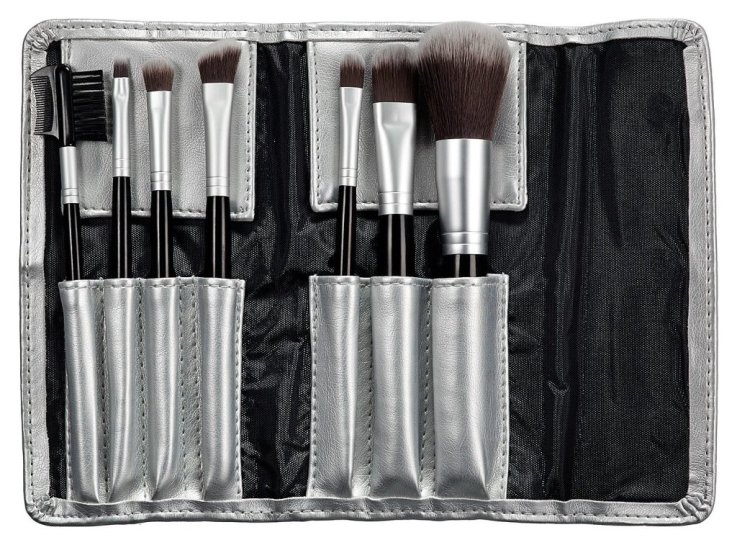 The Deluxe Antibacterial Brush Set has seven brushes ideal for people with sensitive skin. These include a flat eyeliner, concealer, angle eyeshadow, and the powder brush just to mention a few. These brushes are treated using advanced antimicrobial technology, which plays a significant role in keeping them fresh for an extended period.
The hypoallergenic and non-toxic compound used on every brush is responsible for attacking and destroying any harmful bacteria. Deluxe Antibacterial Brushes are also soft thanks to their synthetic fibers which help distribute the perfect amount of makeup for a fantastic result every time. They come with a gray/silver faux cracked leather pouch for easy storage.
4. SEPHORA COLLECTION PRO Essentials Brush Set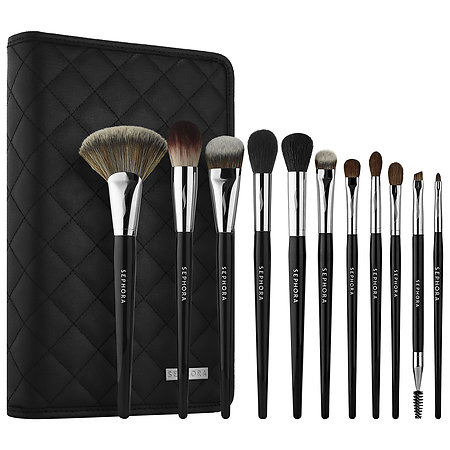 The Essentials Brush Set has not only 11 of the best-selling and top-rated brushes from Sephora but also features some of their latest invention; the Pro Complexion Fan Brush #54. This brush set is ideally a collection of some of Sephora's best brushes including the Pro Blending #27, Pro Contour #79, Pro Featherweight Complexion #90, and the Pro Shadow #14.
These brushes also come with an Easel Style brush holder and a black pouch. For cleansing, use the daily brush cleaner or the solid brush cleaner for solid cleaning. Despite being an exclusive and limited edition, this brush set is affordable and guarantees excellent value for money. If you are looking to collect some of the best brush sets from Sephora without having to buy a set at a time, you can get the whole package in the Pro Essentials Brush Set.
Read: Best Lancome Lipstick and Lip Gloss You Should Be Using
5. SEPHORA COLLECTION Deluxe Charcoal Antibacterial Brush Set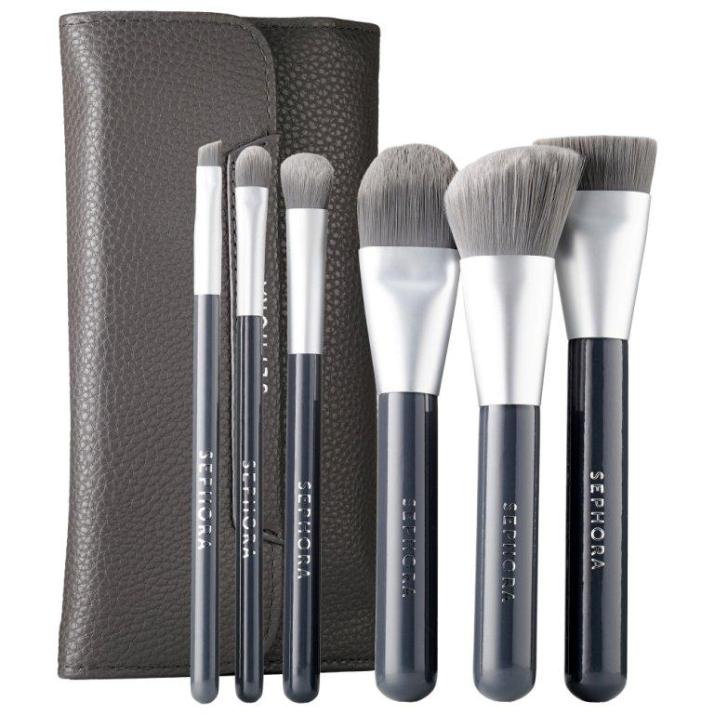 Other than being an active agent in teeth whitening, charcoal can also be used to keep your makeup brushes fresh for an extended period. Its antimicrobial properties are infused in the soft synthetic bristles to help this six-piece brush set provide the ideal blend and cover for any formula whether dry or wet. Unlike most other brushes on the list, the Deluxe Charcoal Antibacterial set features a mixture of big and small brushes.
The biggest is the foundation brush which helps lay the foundation more evenly and quickly thanks to its wide shape and can also be used as a sanitized face mask applier. On the other hand, the precision sweep brush has a flat shape that comes in handy when highlighting your face. Lastly, all the brushes in this set are suitable for people with sensitive skin thanks to the formula used in their production.
6. SEPHORA COLLECTION SU Easel Brush Set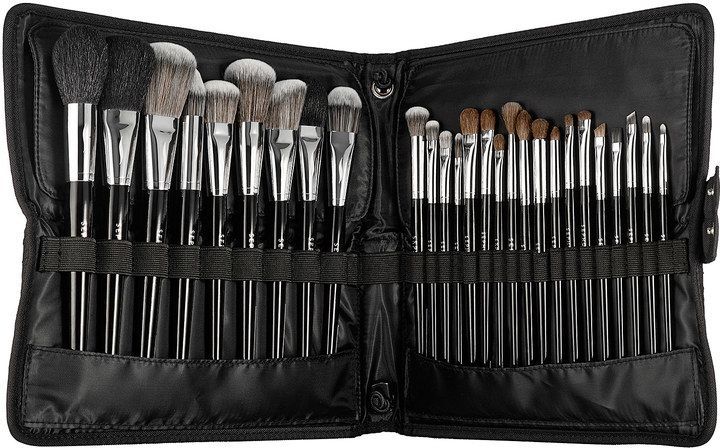 The SU Easel Brush Set is another collector's item from Sephora that features the best brushes to have ever graced the market. This set contains 26 professional grade Sephora Collection Pro Brushes that come in handy for makeup artist professionals. These brushes include the Pro Air Brush #55, the Pro Tapered Crease Brush #19, the Pro Brow #20, and the Pro Precision Concealer #73 just to mention a few.
The Sephora SU Easel Brush Set draws its inspiration from the set used in University classes and clients throughout select stores. The best of these brushes are included in this set that also comes with a standing Easel pouch for convenience and easy traveling. This product is also exclusive and limited edition but has release schedules and can be shipped overseas.
Conclusion
One reason why some people opt against purchasing Sephora brush sets is their allegedly high price. But if anything, most ( if not all ) of the brush sets on this list are not only affordable but also come with unique features that help them not only last long but also protect your skin from any bacterial infections. Also, they provide a variety of options ensuring that you do not waste time cleaning the same brush just to use it to apply another shade.